Published as serial #MayorAMonth social media posts for the Gracie Mansion Conservancy, the following two biographies have been supplemented and massaged into essay format suitable for blog, newsletter, or catalogue.
New Year's Day, 1910, William Jay Gaynor walked to his inauguration at City Hall from his home at 20 Eighth Avenue, Park Slope, Brooklyn. He served the better part of a four year term from 1910-1913 as a Democrat. New York City by this time included all five boroughs, immigrants were pouring in through Ellis Island, and great energies were being spent toward social and technological advancement. Gracie Mansion had been commandeered by the city and was humbly serving the public as an ice cream stand and "comfort station." 
Campaigning, Gaynor's opponents had called his practice of law "notional" and "tyrannical." His record, however, was outstanding. "The World's Work" indicates that the Governor of New York appointed a "Commission on the Law's Delay" in 1902, reporting on seven years of court proceedings. It showed that the Supreme Court judges of Manhattan tried an average of 12.55 cases per month, and those of Brooklyn an average 23.17. One judge, "Number 5," maintained an average of 39+ cases per month and further spent two months more than any other judge in the hearing of motions. "Number 5" was, of course, Judge Gaynor. Lest anyone think he were sloppy, of the cases appealed from the Brooklyn Supreme Court, 68% were affirmed, while affirmations of Gaynor's rulings stood at 77%. 
As mayor, he was no less effective. Elected by the Tammany machine, the efficient and philosophic Gaynor, born on a farm in Oneida County, who would entertain dinner guests with stories of the "little frame schoolhouse at Skeeterboro, with its benches and its cordwood stove at which he thawed out his frozen ears" would soon clear out corruption as handily as any farmer mucking out a stable. 
According to The World's Work, Doubleday, 1910, "Within ninety days of his inauguration he had introduced economies saving the city $1,700,000 a year, and increasing its borrowing power $34,000,000. ... He took machines away from city officials who had no official need of them, and decorated every car with conspicuous letters betraying its public character. He discontinued paying private telephone bills. He removed dead men from city pay-rolls. He had the operation of the city-owned Staten Island ferryboats compared with that of the Pennsylvania ferries to New Jersey, and cut the city's crews down by half. ... He found dummy musicians in city bands, and, not agreeing with Keats that melodies 'unheard are sweeter,' stopped their 'ditties of no tune.' A newspaper which had opposed him as a menace to the city credit printed this headline thirty days after Mayor Gaynor had taken his seat: 'PAY-ROLLS A MILLION LESS—CUTTING, ONLY BEGUN' In sixty days more the Mayor had found it possible to save the city three-fourths of a million more."
Gaynor also confronted sensationalist press. In an open letter published in the New York Evening Post, he admonished, "The time is at hand when these journalistic scoundrels have got to stop or get out, and I am ready now to do my share to that end. They are absolutely without souls. If decent people would refuse to look at such newspapers the whole thing would right itself at once. The journalism of New York City has been dragged to the lowest depths of degradation. The grossest railleries and libels, instead of honest statements and fair discussion, have gone unchecked."
He took on the issue of police brutality with equal vigor, though that in a more fatherly manner: "The Mayor did not interest himself in police offenses only. He also signaled out acts for praise. An officer who took a lost child to his street-car and gave him his fare home received a letter of appreciation." Tammany Hall would not support his bid for reelection, but by that time, he didn't need it.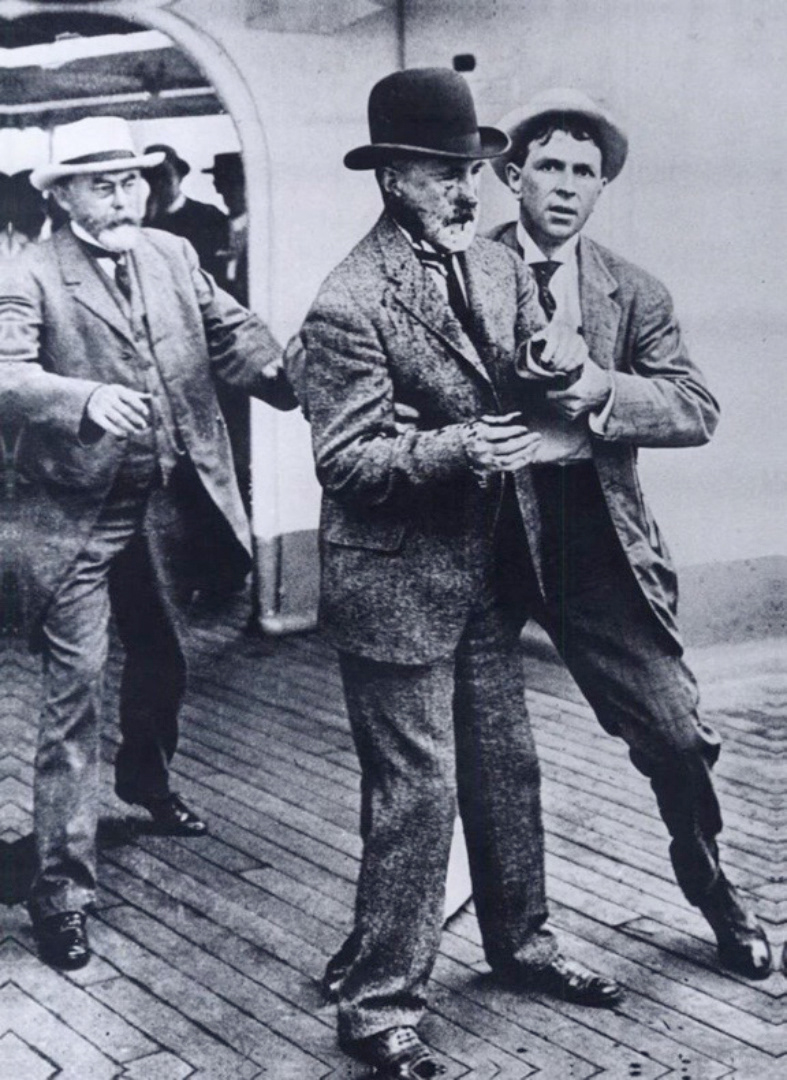 He faced personal challenges as well. August 9th, 1910, Gaynor, embarking on a European vacation, was shot by a disgruntled city employee. According to John Faber in "Great News Photos and the Stories Behind Them," William Warnecke's capture of his iconic photograph of the event goes like so: 
"Hughie O'Neill... told Bill he was having trouble with a feature assignment. Bill said he'd help.... What the City Desk wanted of O'Neil was a photo of a Fire Department horse, laughing. It was to be used with a story about the city replacing the animals with newly purchased, motor-driven fire engines. En route, Bill located a "fire horse." He tried every way he could to get the horse to 'laugh.' Finally, he fed the animal caramel candies. While the horse gummed the mess, wriggling his lips to free his teeth, Bill made the shot. It looked like a genuine horse laugh. 
But it had taken too much time. Warnecke was running late. When he boarded the SS Kaiser Wilhelm der Grosse, he saw the other photographers had gone. He made an overall 'safety shot'.... While he changed holders, to make 'just one more,' a squat, broad-chested man stealthily, almost unnoticed, joined the group.... Robert Anderson, Gaynor's secretary, shouted a warning as the unknown man drew his pistol, and, holding it six inches from the Mayor's head, pulled the trigger. The gun failed to go off. The man pulled the trigger again, and the pistol flashed. The Mayor staggered with the impact of the bullet, and clutched his throat. 'Big Bill' Edwards, 300-pound Street Cleaning Commissioner, grappled with the man as he fired another shot. The bullet intended for Edwards passed through his coat sleeve and struck Mayor Gaynor in the back. 
The Mayor lurched as Robert Marsh grabbed his arm to steady him. At that instant, Warnecke made his 'great picture.' Edwards, a pier policeman, and other city officials, subdued the struggling would-be assassin, J. J. Gallagher. They bound his hands and dragged him off the ship, down the street into a waiting car. Bill ran ahead and made the picture. He got back in time to make a final photo of Gaynor being carried off the ship." 
Gaynor resumed duties after two months, barely able to speak. 
His tenure was a period of history marked by great change. Made possible by a breakthrough in steel production technology, early skyscrapers announced the advent of the modern era. Excavation begun 1910 at Broadway and Park Place adjacent to City Hall Park (a site selected in no small part because of the prestige it conferred), Mayor Gaynor would have seen the daily progress of the construction of The Woolworth Building until its completion in 1913 when it took the title of tallest building in the world. ⁠Designed in neo-Gothic style by the architect Cass Gilbert and drenched in terra-cotta cladding and glass mosaic with elevator banks designed by Tiffany Studios, it is a must-see for any architecture enthusiast. ⁠ 
Of global significance, 1911 saw the fall of the Qing Dynasty, ending 2,000 years of imperial rule in China. ⁠As mayor of New York City, a center of global commerce from its founding, Gaynor had occasion to play the role of diplomat on more than one occasion. He played host to Admiral Chin Pih Kwang, and according to Worlds Work, 1910, "No mayor has ever given such a dinner as that with which, out of his private purse, the Mayor honored Prince Tsai Tao."⁠
In other world news, the luxury ocean liner RMS Titanic collided with an iceberg in the North Atlantic on her maiden voyage from Southampton, England, to New York City on April 14, 1912, and sank in the early hours of the morning. More than 1,500 of her 2,200 passengers perished in the frigid waters. Gaynor arranged for the city to accept donations from those who wanted to help April 17, one day before the Carpathia, carrying 700 Titanic survivors, arrived in New York.
Coincidentally, Colonel Archibald Gracie IV was among the survivors. Colonel Gracie was the great grandson of Archibald Gracie, who built Gracie Mansion in 1799, which was to become the official residence of the mayors of New York City in 1942. Colonel Gracie wrote of the experience but suffered ill health resulting from severe hypothermia, having been pulled under upon sinking and having swum to a capsized lifeboat, there to stand with others knee deep in the icy waters until rescue, and died December 4. His book, Titanic: A Survivor's Story, was published posthumously in 1913. It is still in print.
On the domestic front, Women of the day, having long sought parity, were abandoning such genteel methods of protest as petition-writing and auditorium speeches and taking to the streets in an extreme departure from Victorian social mores that decreed "decent" women did not leave the home unescorted. Demonstrating the strength of those taboos, the first suffrage parade, which was brainchild of Maud Malone and held in NYC February 1908 despite having been denied permit, included only thirty or so women. Happily, they were joined by some 2,000 male allies. Malone shrewdly recognized that success lay in making it a happy occasion, and the event was applauded by the press. Gaynor and his wife politely declined the invitation to view the 1911 march, but 3,000 women from every economic strata convened on Union Square that year.
In an interview May 16, 1913 Gaynor observed: "Do I think the men of this State are opposed to woman suffrage, or are in favor of it, or indifferent about it? I think the greatest number are in that mood that they just laugh and rub their stomachs and say that they are perfectly satisfied for the women to vote if they want to. But the trouble is that there are only a few women, apparently, who want to vote. Mark me, as soon as the majority of them want it they will get it." This observance of the predominant male mood was probably on point. A Jeffersonian Democrat, it further falls in line with his "less is more" views on policy without necessarily being unsympathetic. The problem stems from later remarks in that same interview wherein he suggests the more strident suffragettes were in want of husbands, for which he was roundly criticized. 
Further writings show that he genuinely believed the happiness of women best served by good husbands and the rearing of children, which is the sort of benevolent condescension that had plagued the cause of parity from the outset. That said, Gaynor appointed several women as members of the Board of Education, so within the narrow scope of his domestic beliefs, we can at least conclude that he regarded women as competent and fit for leadership. 
Given what we can infer of his sober character, it is not entirely surprising that Mayor Gaynor did not partake in the "International Exhibition of Modern Art," mounted 1913 at the 69th Regiment Armory, though history would come to understand it as a watershed moment in art. 
If our imperturbable mayor were likely to have had any thoughts on any of the works in that seminal show, however, they might have centered on the provocative work titled "The White Slave," representing child prostitution, displayed prominently as one entered of the exhibition, by Abastenia St. Leger Eberle, a politically conscious artist best known for her small bronzes depicting the poor immigrants of New York's City's Lower East Side. 
In his "Letters and Speeches" Gaynor expresses a clear-eyed sympathy for the systemic sexual-economic subjugation of women, opining on the subject of prostitution, "They were in the world at the beginning of history, yes, at that border line where fable scarcely ceases and history hardly begins, and they are here yet. They will continue to be here until by the aid of moral teaching the hearts and propensities of men shall be subdued and made better. These women are what men made them. One of the chief causes of their resorting to such a manner of life is that very often they are paid wages which do not enable them to live."
On September 4, 1913, Mayor Gaynor, bane of Tammany Hall, accepted nomination from an independent group to run for a second term, and set out for a rejuvenating European vacation on the White Star liner, Baltic. He was found in a deck chair by his son, Rufus, September 10, at first appearing to be asleep. The steward had just taken his lunch order. ⁠
⁠
Ardolph L. Kline was sworn in the next day.⁠
⁠
Despite its fantastic currency as a story and the number of times that story has been repeated, the bullet that had remained in his neck from the 1910 assassination attempt was not the culprit. According to the New York Times September 12, 1913, "OLD WOUND NOT THE CAUSE | Doctors Agree That at Most It Was Only Contributory—Long Had Arterial Trouble | NEWS SHOCKS WHOLE CITY | Political Friends and Foes Unite In Eulogy of His Courage In Civic Affairs."⁠
⁠
Gaynor's body was returned to New York on the Lusitania. His casket was carried from his home September 20, 1913, and transported on a horse-drawn float for ceremonies at City Hall and Trinity Church. President William Howard Taft was a pallbearer. He was buried in the Green-Wood Cemetery. ⁠
⁠
A memorial by sculptor Adolph Alexander, dedicated 1926, stands in Cadman Plaza Park near the path to the Brooklyn Bridge our good mayor had walked so often.
ROBERT FERDINAND WAGNER II
A graduate of Yale, Harvard, and The Graduate Institute of International Studies, Robert Ferdinand Wagner II resigned his seat on the New York State Assembly to serve in the Army Air Corps during WWII, ultimately rising to the rank of lieutenant colonel before returning to public service. ⁠The 102nd mayor of New York City, Wagner served three four-year terms as a Democrat, 1954-1965. Encompassing the civil rights movement, the women's liberation movement, and the beginning of the Vietnam War, it was a politically charged period in US history. 
The Wagners resided at Gracie Mansion.⁠ Shy and a "good sport," Susan Wagner preferred to stay out of the spotlight but was well known for the warmth of her hospitality.⁠ The New York Times, March 3, 1964⁠ reveals:
⁠
"[She] believed, and said, that the lovely white mansion overlooking the East River at at 88th Street belonged to the people of New York. She threw it open to charitable philanthropic and civic groups. Tours of school children and other groups were allowed, and sometimes she was the guide.⁠
⁠
Except for the summer months, the receptions, teas and lunches averaged four a week. Mrs. Wagner, honorary chairman or vice chairman of many fund‐raising campaigns, was a gracious hostess. Visitors were asked to avoid fund‐raising in the mansion and to restrict themselves to the ground floor. ...⁠
⁠
As Mrs. Mayor, Mrs. Wagner was hostess, too, to statesmen, diplomats, politicians and their wives. Prince Philip, the Duke of Edinburgh; Mrs. Nikita Khrushchev, Mrs. Charles de Gaulle, Queen Sirikit of Thailand and dozens of other notables were entertained by her."
October 17th, 1963, Susan Wagner announced a plan for a major renovation of Gracie Mansion to address the infeasibility of carrying out the necessary functions of a political household in a small historic house—to say nothing of establishing boundaries. Mayor Wagner observed visitors were not beyond "walking in on our sitting room and even our bedroom," with small personal items, including one of the children's silver baby cups, getting nicked for souvenirs.⁠
⁠
The plans were delayed as Susan Wagner battled and succumbed to cancer, but were revived, according to the NY Times, June 25, 1964, when the Board of Estimate approved the agreement between the city the Committee for Gracie Mansion, which was to raise funds for the project. It was further reported that Newbold Morris, Parks Commissioner, said of the project that it would be "thoroughly in harmony with the architecture of Gracie mansion and considerably different from ideas which were discussed several months ago." Mott B. Schmidt, assisted by Edward Coe Embury, F. Burrall Hoffman, and Landmarks Commission architect John Barrington Bayley, was appointed chief architect later that year. Interior historic appointments were curated by Jeannette Becker Lenygon.

A founding member of the American Institute of Interior Designers, Lenygon obtained a degree in Decorating from Northwestern and when London Firm Lenygon & Morant Ltd., which had assisted in the decoration of both Windsor and Buckingham Palaces, opened offices in New York, became its Manager. She married Frances Lenygon, who had trained as a cabinetmaker and worked with Charles Duveen, son of art dealer (some would say the first art dealer), Sir Joseph Duveen, in 1926. In 1935 she led a committee of the American Institute of Decorators to ascribe to the field the expert curatorial scope it carries today. ⁠
⁠
Ada Louis Huxtable, NY Times architecture critic, gave effusive praise upon its completion in 1966, lauding the "close to perfect" execution of the "architectural shell" but asserting it was "the interiors, with their 18th- and early 19th-century museum-caliber furnishings, serving the building's primary public reception functions, that count."
Following the famously controversial 1963 demolition of McKim, Mead and White's Pennsylvania Rail Road Station and ensuing Historic Preservation movement championed by Jacqueline Kennedy Onassis, Mayor Robert Wagner signed the landmarks bill into law on April 19, 1965. Wyckoff House, built c. 1652, was the first building landmarked under the new law. Gracie Mansion followed shortly after with the finding September 20th, 1966 by the Landmarks Preservation Commission:⁠
⁠
"On the basis of a careful consideration of the history, the architecture and other features of this building, the Landmarks Preservation Commission finds that Gracie Mansion has a special character, special historical and aesthetic interest and value as part of the development, heritage and cultural characteristics of⁠ New York City.⁠
⁠
The Commission further finds that, among its important qualities, Gracie Mansion is the only one of the original country seats on the Island of Manhattan still occupied as a home, that it is a remarkably distinguished example of Federal architecture and that, as the home of the Mayors of the City of New York, it possesses a distinction quite in keeping with its architectural qualities and its historical renown.⁠
⁠
Accordingly, pursuant to the provisions of Chapter 8-A of the Charter of the City of New York and Chapter 8-11. of the Administrative Code of the City of New York, the Landmarks Preservation Commission designates as a Landmark Gracie Mansion, East End Avenue at 88th Street in Carl Schurz Park, Borough of Manhattan and designates as its related Landmark Site that part of Borough of Manhattan Tax Map Block 1592, Lot 1 which contains the land on which the described building is situated."⁠
Beyond the boundaries of Carl Schurz Park, New York City lost two treasured cultural institutions in 1957, the New York Giants, and the Brooklyn Dodgers, leaving only the New York Yankees. "The New York Metropolitan Baseball Club, Inc.," the Mets, founded that year to fill the void they left, took the blue of the Dodgers and the orange of the Giants for their colors. ⁠
⁠
The New York Giants formed as the New York Gothams in 1883. They won the World Series in Mayor Wagner's first year in office, 1954. Leaving for San Francisco in time to start the 1958 season, they would not win another championship until 2010. 
⁠
"Dem Bums," the Brooklyn Dodgers, formed in 1883 as the Brooklyn Grays, had become the first MLB team to break the color barrier by signing Jackie Robinson in 1947. His jersey number, 42, was retired across all MLB team in 1997, it was the first such tribute to be paid to any professional athlete in sports history. Majority owner O'Malley, at loggerheads with Robert Moses, took the team to Los Angeles. According to the HBO film, Brooklyn Dodgers: The Ghosts of Flatbush, the old saw goes, "If you asked a Brooklyn Dodger fan, if you had a gun with only two bullets in it and were in a room with Hitler, Stalin and O'Malley, who would you shoot? The answer: 'O'Malley, twice!'"⁠
Moving from popular culture to politics, the civil rights movement, leveraging the power of the African American vote in the north after the great migration and the opportunities opened by the New Deal administration, was advancing social justice across the United States, and in politics. A veteran activist with political experience at the international level, several prominent Democrats including Eleanor Roosevelt and Senator Herbert Lehman urged newly elected Mayor Wagner to appoint Anna Arnold Hedgeman Commissioner of Welfare. He dragged his heals, but eventually did.
"To be the first woman, and the first Negro, to serve in the Mayor's Cabinet was a joy," Hedgeman wrote describing her 1957 appointment.⁠
⁠
But, "Once the festivities ended" her biographer, Jennifer Scanlon writes, "Hedgeman faced a strange reality: she had no office, no specific assignments, and no designated appointment with the mayor. When... Henry Epstein discovered her at a desk she had secured in the hallway, he took her to lunch, where she explained her dilemma. Hedgeman also shared her concerns with her allies in the black press, who immediately drew attention to the injustice. Within a week, the new mayor's assistant had a portfolio, which included welfare, civil service, libraries, museums, air pollution, and the United Nations." ⁠
⁠
She swam in international waters, wrote newspaper articles, spoke on national radio, and was in high demand for public appearances. As Keynote at a civil rights event at the Waldorf, James L. Hicks observed Hedgeman "lashed out from her international background as a fighter for full freedom, she drew on her national experience to strike at the defects of her nation's democracy, she rapped New York's schools from her vantage point as the mayor's assistant, and she 'came home' to her audience as a grassroots organizer," receiving a standing ovation. ⁠
⁠
Despite helping pass the Sharkey-Brown-Isaacs Law in 1958—the first in the nation to prohibit discrimination in public housing based on race, religion, or nationality—she grew frustrated by Wagner's "when in doubt, don't" style of governance, and resigned September 25 of that year, wishing the mayor well. ⁠
⁠
She was planning a run for Congress inside a year and was one of the founders of National Organization for Women in 1966.⁠
Hedgeman was not alone in her frustration with stagnant practices. Citing Clarence Taylor, "Robert Wagner, Milton Galamison and the challenge to New York liberalism, Afro-Americans in New York Life and History: An Interdisciplinary Journal," vol. 31, no. 2, July 2007:⁠
⁠
"The most dramatic civil rights protest in New York City took place on February 3, 1964 when civil rights groups launched a one-day boycott of the public school system over the issue of school integration. The school integration protest, led by the Rev. Milton A. Galamison, managed to keep close to a half million children out of the public schools in an attempt to force the New York City Board of Education to come up with a plan and timetable to integrate the school system. The event was so dramatic that it caught the attention of Dr. Martin Luther King who congratulated the demonstration leaders for their efforts for bringing New York City's racism to the attention of the nation."⁠
Taylor goes on to quote former Assistant New York City Budget Director Charles R. Morris as observing that Wagner "tried valiantly to redirect city services. Federal juvenile delinquency money was tapped to provide summer jobs for young people from the slums. Money was found to pay for the Higher Horizons program for disadvantaged pupils—extra teachers, audio-visual aides, and bilingual or Spanish-language instruction." 
Despite these efforts, the disparity in the allocation of resources to school districts populated by students of color persisted.
In his obituary, Wagner's successor, John Lindsey described Wagner as New York's "first modern mayor" (NY Times February 13, 1991). ⁠His tenure marked by unprecedented activism, Wagner has been called alternately "one of New York City's most liberal mayors," and "inept when it came to addressing the race issue." Tempering the later view, David Dinkins, according to that same obituary, "traced his own election as the city's first black mayor, in part, to Mr. Wagner's role in the election of the first black Democratic leader of Manhattan," stating that Wagner "'made dignity and decency the watchwords of a long career of government service.'"⁠
Where Wagner falls indisputably on the wrong side of history is in his targeting of the LGBTQ+ community in anticipation of the 1964 World's Fair. ⁠
⁠
In "Stonewall: The Riots That Sparked the Gay Revolution," by David Carter, we are given the first hand accounts of Philip Bockman who arrived in NYC in 1963 "only to find that Mayor Wagner had this crackdown on the gay bars. Everything was closed up when I got here. The only gay bar open was the Cherry Lane. There were a few others that operated very surreptitiously. In 1964 for the entrapping people as much as they could to clean up the homeless, the prostitutes, and the homosexuals. A lot of people were caught in the dragnet. I remember going to bars and some of the undercover policemen got to be known because they would always be in the bars and some people got to know who they were. I remember a couple of instances where we would form a circle around them and we'd spread the word to everybody in the bar. Sometimes we'd even follow them from bar to bar."⁠
⁠
As frustrating as it surely was at the time, looking back over this recent and relatively short span of history we can appreciate the great strides made by those then working towards equality. Progress, then, now, is not made easily—but it is made.⁠